City of Madison improves ISO rating from Class 5 to Class 4/4X
 The City of Madison and the Madison Fire Department are proud to announce the recent review by the Insurance Services Office Inc. (ISO) resulted in an improved rating from Class 5 to Class 4/4X. The classification, known as the Public Protection Classification (PPC) program, assesses the fire-protection efforts in a community. Effective February 1, 2022, the City's improved rating score may help residents and businesses within Madison city limits achieve lower insurance costs. Property owners are urged to contact their insurance company regarding this new ISO rating.
ISO conducts field visits in order to collect information on municipal fire protection efforts in communities throughout the United States and then analyzes the relevant data using its Fire Suppression Rating Schedule (FSRS). The rating is based on four factors – the Fire Departments ability to receive and respond to fire alarms; review of the fire department's equipment, personnel and training; the water supply system; and communication. ISO then assigns a Public Protection Classification from 1 to 10. Class 1 representing superior property fire protection, and Class 10 indicating the area's fire suppression program doesn't meet ISO's minimum criteria. Insurance companies then use this ISO rating for underwriting and calculating premiums for residential, commercial and industrial properties. ISO is the leading supplier of data and analytics for the property/casualty insurance industry. If you have questions about the new ISO classification or the rating process, please contact Fire Chief Bruce Jordan at 850-973-5075.
FREE SMOKE ALARMS
The American Red Cross supplies the City of Madison Fire Department with smoke alarms to install in homes. 
For More Information and or Schedule an Installation 
Please Contact:
American Red Cross
(850) 878-6080
Madison Fire Department
(850) 973-5075
Mission Statement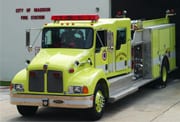 As a team, the primary goal of Madison Fire Rescue (MFR) is to prevent fires and protect lives and property. This will be accomplished through continuous training by our highly motivated firefighters that work together for a common goal, which is maintaining a safe and efficient fire department. MFR will also provide mutual aid assistance to other local Volunteer Fire Departments upon request. MFR will assist the State Fire Marshals Office with fire prevention, public education and fire cause determination. MFR will strive to accomplish these goals with 100% public satisfaction with our department's provision of these services.
05-29-18 – Section 112.664 Compliance – Annual Disclosures
Important Links:
Florida Disaster
FEMA
Fire Index
Firewise
Florida State Fire College
Red Cross
State Fire Marshal
About Us
Madison Fire Rescue is located within the City of Madison Florida. Members of the fire department provide fire suppression, extrication, rescue, hazardous materials response and respond to other emergency situations when called to duty in the City and surrounding areas.
Madison Fire Rescue is made up of 10 professional firefighters and a contingent of volunteer firefighters. There are three firefighters on duty around the clock providing the community with first-rate fire protection, emergency extrication services, and a good fire rating."
In addition to providing life and property protection, Madison firefighters provide fire prevention classes, residential fire inspections, residential smoke detectors and testing, and provide educational classes for the children attending our three (3) elementary schools. All of this is provided at no charge. Annual Fire Inspections are conducted in all commercial structures thus offering the utmost safety to their employees and patrons.

Fire Chief
Bruce Jordan

Contact
Fire Department
253 SW Horry Avenue
Madison, Florida 32340
Phone: 850.973.5075
Fax: 850.973.5400